High-Quality Three-Axis FOG
High-Quality Three-Axis Fiber Optic Gyroscope is an inertial angular rate sensor based on the optical sagnac effect, which is used to measure the angular rate of the carrier along the sensitive axis of the product. The angular rate sensing unit of this product is an optical fiber loop, which uses a digital closed loop detection circuit to extract the optical path difference of the optical fiber loop that is sensitive to counter clock wise propagation caused by the external physical angular velocity, and at the same time converts the optical path difference signal into a voltage signal for closed loop feedback control realizes signal modulation and demodulation, so as to achieve the purpose of high-precision angular velocity signal detection.
The product is composed of optical angular velocity sensitive unit and signal detection, which provides three-axis angular increment rate information and internal temperature information.
Applications
The products are mainly suitable for inertial navigation system, positioning and orientation system, attitude measurement system, servo stability system and other applications.
Specifications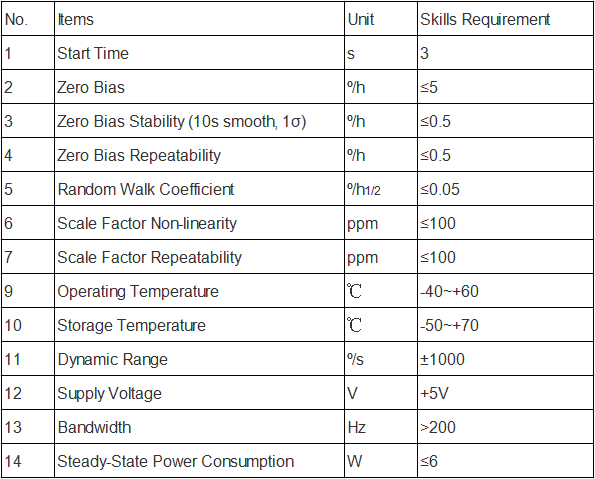 Power Requirements
The product uses +5V DC power supply, no negative power supply. The power supply requirements are shown in the table.

FAQ:
1. What are the quotation methods?
If you have DHL or Fedex account, we can quote EXW price, otherwise CIF or FOB price.
2. Are there any discounts?
After we submit the sample price, if more quantity is needed, we will quote the bulk price.
3. How long will it take to deliver the goods after placing the order?
For sensors, parts and modules: in stock-one week; no stock-2-4 weeks; For systems, generally, 8-12 weeks.
4. How to deal with the quality problems?
After confirming that the product has quality problems, we will replace it for you free of charge in the shortest possible time.
If interested in High-Quality Three-Axis Fiber Optic Gyroscope, pls contact us: info@ericcointernational.com