Dynamic Direction Sensor
Introduction
ER-DOS-03 Dynamic Direction Sensor includes a three-axis high-temperature high-precision acceleration sensor and a three-axis high-temperature fluxgate sensor. The product uses a 24-bit high-resolution ADC to digitize the output signal of the sensor for temperature drift and quadrature compensation. The sensor can accurately measure well angle, tool face angle and azimuth angle within the range of 0~150℃.
The product has the characteristics of small size, compact structure, strong anti-vibration ability, high reliability and excellent performance. The built-in digital filter and compensation algorithm can remove the interference signal of vibration and rotation, and accurately measure the vibration and rotation under the angle. In addition, the external size, installation method and digital output interface (UART or rs-232) of the probe can be customized according to different customer requirements.
Features
High temperature resistant
Resistance to vibration and shock
Dynamic measurement under rotation
Low power consumption
Specifications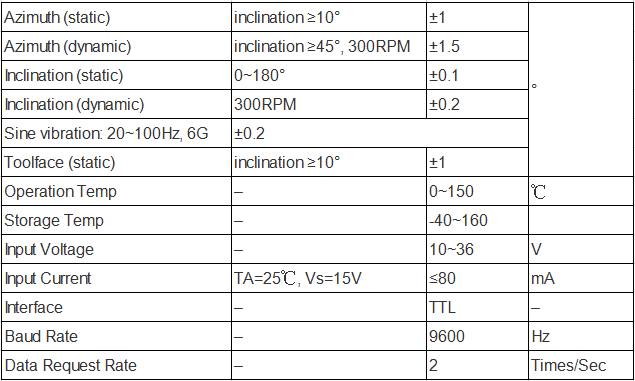 FAQ:
1. What are the quotation methods?
If you have DHL or Fedex account, we can quote EXW price, otherwise CIF or FOB price.
2. Are there any discounts?
After we submit the sample price, if more quantity is needed, we will quote the bulk price.
3. How long will it take to deliver the goods after placing the order?
For sensors, parts and modules: in stock-one week; no stock-2-4 weeks; For systems, generally, 8-12 weeks.
4. How to deal with the quality problems?
After confirming that the product has quality problems, we will replace it for you free of charge in the shortest possible time.
If interested in Dynamic Direction Sensor, pls contact us: info@ericcointernational.com