Current Output Single Axis Tilt Sensor
Introduction
It is a standard industrial high-precision current output single-axis tilt sensor, with standard currents of 4-20mA, 0-20mA, 0-24mA to choose, and RS232 output, which can transmit 2000 meters away. Users only need to collect the sensor voltage value and can calculate the current object tilt angle. The built-in (MEMS) solid pendulum, by measuring changes in the static gravitational field, translates into changes in inclination.
The product adopts MEMS sensor production technology to accurately compensate and correct temperature errors and linear errors. It has the advantages of high accuracy, small size, high packaging process, withstand strong vibration, built-in anti-radio frequency, anti-electromagnetic interference circuit, especially suitable for the application of underground trenchless machinery and other harsh industrial environments.
Features
Single axis tilt monitoring
Full range accuracy 0.005°, resolution 0.0007°
Output interface 4~20mA, 0~20mA, 0~24mA (optional)
Wide-voltage input DC 11~36V
Wide temperature working -40~+85℃
Range 0~±5/±15/±30° (optional)
High vibration resistance >20000g
IP67 protection
Can output RS232 at the same time
Volume (107*55*27mm) (customizable)
Applications
Railway gauge ruler, gauge instrument
Satellite solar antenna positioning
High altitude work vehicle
Mining machinery, oil logging equipment
Medical equipment
Hydraulic lifting platform
Inclination monitoring
Angle control of various construction machinery
Inspection of bridges and dams
Specifications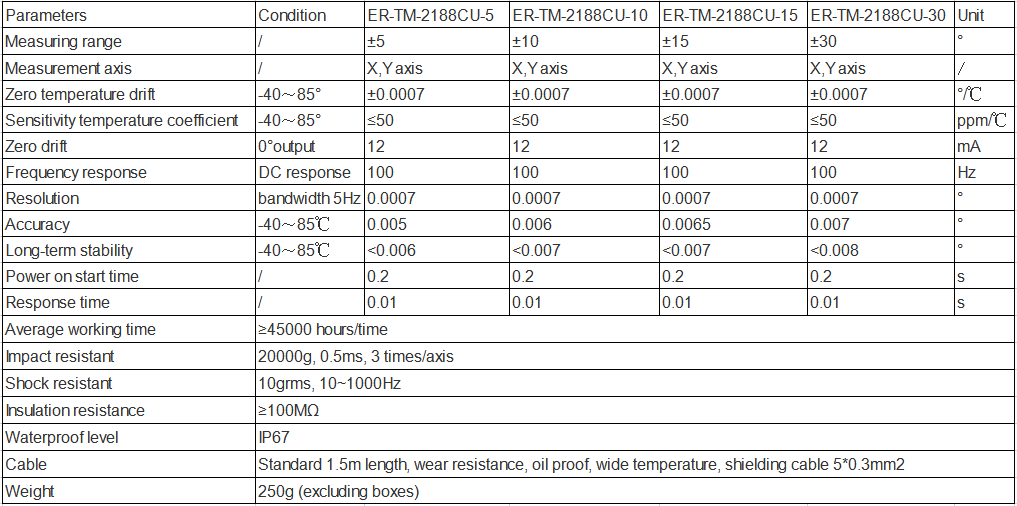 FAQ:
1. What are the quotation methods?
If you have DHL or Fedex account , we can quote EXW price, otherwise CIF or FOB price.
2. Are there any discounts?
After we submit the sample price, if more quantity is needed, we will quote the bulk price.
3. How long will it take to deliver the goods after placing the order?
For sensors, parts and modules: in stock-one week; no stock-2-4 weeks; For systems, generally, 8-12 weeks.
4. How to deal with the quality problems?
After confirming that the product has quality problems, we will replace it for you free of charge in the shortest possible time.
If interested in Current Output Single Axis Tilt Sensor, pls contact us: info@ericcointernational.com