High Precision & High Performance FOG INS 
Introduction 
ER-FINS-120 High Precision & High Performance FOG INS are all strap-down inertial navigation products. The basic components of the series of inertial navigation products are three optical fiber gyroscopes of corresponding grade, three quartz flexible pendulous accelerometer, navigation computer circuit, information processing circuit, current frequency conversion circuit, power changing device, structural platform/structural box and vibration damping device. The product can be used for real-time measurement of three translational information and three moving information of various aircraft or moving objects, and can output real-time navigation information such as angular increment, apparent velocity increment, attitude, speed and position of the carrier. This series of products have the characteristics of wide dynamic working range, strong adaptability to the environment and comprehensive navigation information.
Specifications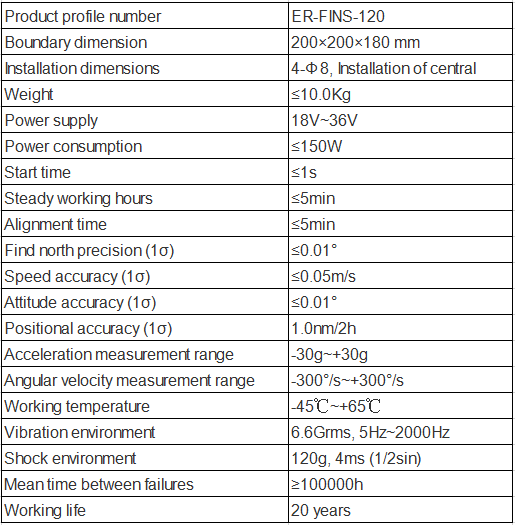 FAQ:
1. What are the quotation methods?
If you have DHL or Fedex account, we can quote EXW price, otherwise CIF or FOB price.
2. Are there any discounts?
After we submit the sample price, if more quantity is needed, we will quote the bulk price.
3. How long will it take to deliver the goods after placing the order?
For sensors, parts and modules: in stock-one week; no stock-2-4 weeks; For systems, generally, 8-12 weeks.
4. How to deal with the quality problems?
After confirming that the product has quality problems, we will replace it for you free of charge in the shortest possible time.
If interested in High Precision & High Performance FOG INS, pls contact us: info@ericcointernational.com