Digital Zenith Photography Position System 
Introduction
The Digital Zenith Photography Position System has undergone continuous innovation and improvement, forming a remote automatic monitoring system for vertical deflection, which consists of three parts: Digital Zenith photography, location subsystem, remote control subsystem and alarm warning network subsystem.
Based on the "astronomical geodetic method", we get the geodetic coordinates and astronomical coordinates at the same time, and get the vertical deflection data of the survey stations automatically. Through the network transmission and remote automatic monitoring, we can observe and analyze the plumb line deviation data in real time.
Applications
Geodetic positioning survey, vertical deflection measurement service, precise astronomical survey, earthquake early warning and analysis, crustal tectonic stress field monitoring, regional geoid refinement, military mapping and other fields.
Specifications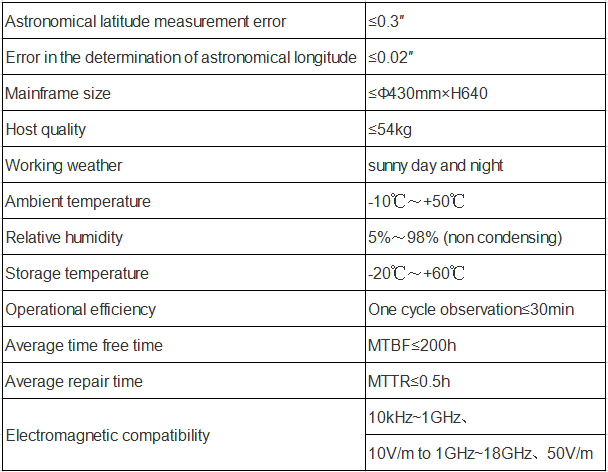 FAQ:
1. What are the quotation methods?
If you have DHL or Fedex account, we can quote EXW price, otherwise CIF or FOB price.
2. Are there any discounts?
After we submit the sample price, if more quantity is needed, we will quote the bulk price.
3. How long will it take to deliver the goods after placing the order?
For sensors, parts and modules: in stock-one week; no stock-2-4 weeks; For systems, generally, 8-12 weeks.
4. How to deal with the quality problems?
After confirming that the product has quality problems, we will replace it for you free of charge in the shortest possible time.
If interested in Digital Zenith Photography Position System, pls contact us: info@ericcointernational.com