ER-GT-24 Explosion Proof Gyro Theodolite
Introduction
The product can find north with ultra-high precision, and its measurement principle is the integration method, which has the characteristics of strong anti-interference ability and high stability. The gyro-theodolite adopts an integrated body design (built-in battery), compact structure and stable performance. It has the functions of low position lock, automatic zero position observation, automatic north finding, automatic limit position, wide temperature compensation, etc. It is gradually iterating the limiter to provide the north finding accuracy of the reference plane azimuth and reduce the north finding time.
The product adopts DC permanent magnet gyro motor, which can reduce the temperature rise of sensitive parts of the gyro and improve the stability of the equipment. The application of gyro fast braking technology can prolong the service life of the gyro motor, so that the instrument does not need to wait and can run continuously, with auxiliary functions such as deflection body, calibrator, and straightening.
Applications
Tunnel penetration measurement
Subway engineering survey
Mine through surveying
College survey teaching
Radar precision orientation
Setting up the azimuth datum
Navigation equipment calibration
Missile testing fields
Specifications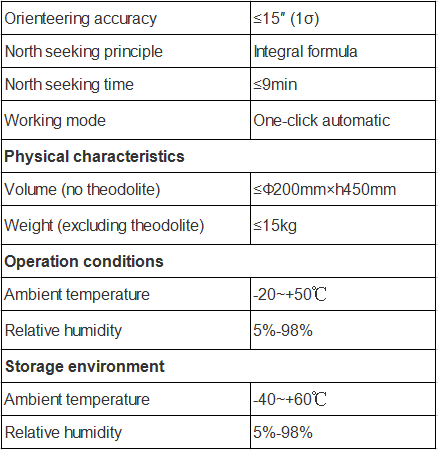 FAQ:
1. What are the quotation methods?
If you have DHL or Fedex account, we can quote EXW price, otherwise CIF or FOB price.
2. Are there any discounts?
After we submit the sample price, if more quantity is needed, we will quote the bulk price.
3. How long will it take to deliver the goods after placing the order?
For sensors, parts and modules: in stock-one week; no stock-2-4 weeks; For systems, generally, 8-12 weeks.
4. How to deal with the quality problems?
After confirming that the product has quality problems, we will replace it for you free of charge in the shortest possible time.
If interested in Explosion Proof Gyro Theodolite, pls contact us: info@ericcointernational.com