GNSS High Precision Positioning Module
ER-PB-01 GNSS High Precision Positioning Module is a small size high precision positioning module, which support GNSS signal reception at full frequency of all constellations, including the new beidou 3 signal system. The module adopts small size table paste design with higher integration, module built-in 9-axis IMU, support onboard integrated navigation and can provide inertial navigation data interface. The product can be docked with high-performance inertial navigation equipment to improve the accuracy of integrated navigation, and is widely used in handheld GIS equipment, unmanned aerial vehicles, and autonomous driving.
Features
Fully supports beidou-3 satellite signal reception and full-frequency positioning of the whole constellation
Support L-band, can receive "China precision" to achieve single centimeter level positioning
New "Swan" anti-interference technology, high performance in comple environment
Integrated 9-axis IMU to support onboard integrated navigation;
Support external high performance inertial navigation, improve the precision of integrated navigation
Small size SMT installation, higher integration
Specifications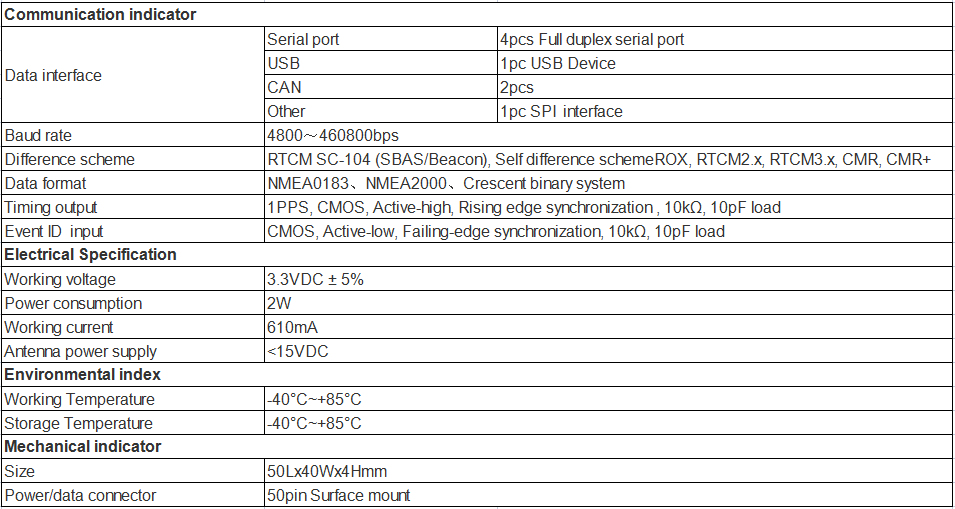 FAQ
1. What are the quotation methods?
If you have DHL or Fedex account, we can quote EXW price, otherwise CIF or FOB price.1. What are the quotation methods?
2. Are there any discounts?
After we submit the sample price, if more quantity is needed, we will quote the bulk price.
3. How long will it take to deliver the goods after placing the order?
For sensors, parts and modules: in stock-one week; no stock-2-4 weeks; For systems, generally, 8-12 weeks.
4. How to deal with the quality problems?
After confirming that the product has quality problems, we will replace it for you free of charge in the shortest possible time.
If interested in GNSS High Precision Positioning Module, pls contact us: info@ericcointernational.com