Beidou/GNSS Satellite Based Enhanced High Precision Positioning Board
ER-PB-04 Beidou/GNSS Satellite Based Enhanced High Precision Positioning Board is a high performance positioning receiver that supports China precision satellite-based enhancement and can achieve centimeter-level positioning accuracy on its own. The board Supports multi-system mufti-frequency points, BDS B1/B2/B3, GPSL1CA/L1P/L1C/L2P/L2C/L5, GLONASS G1/G2, P1/P2. Galileo E1BC/E5a/E5b; QZSS L1CA/L2C/L5/L1C, L–Band. The product integrates positioning functions such as L-Band satellite-based enhancement, RTK, SBAS, etc., has the characteristics of small size and easy integration, and is widely used in the fields of unmanned aerial vehicles, surveying and mapping, mechanical control, and marine engineering.
Features
Support L-band, can receive Chinese precision star based enhancement service, single machine can achieve centimeter level positioning accuracy
Adopt new Athena engine, support RTK satellite base endurance;
Support star base differential rapid recapture.
Support single Beidou, single GPS and multi-star combined RTK
Support for GPS, GLONASS, BeiDou, Galileo and QZSS
Support ultra-long distance RTK and fast initialization
Compatible with ROX, RTCM2, RTCM3.0, RTCM3.2, CMR, CMR+ and other differential data formats
With serial port, USB, CAN port and network port, more control options
Support 10MHz external clock input
Specification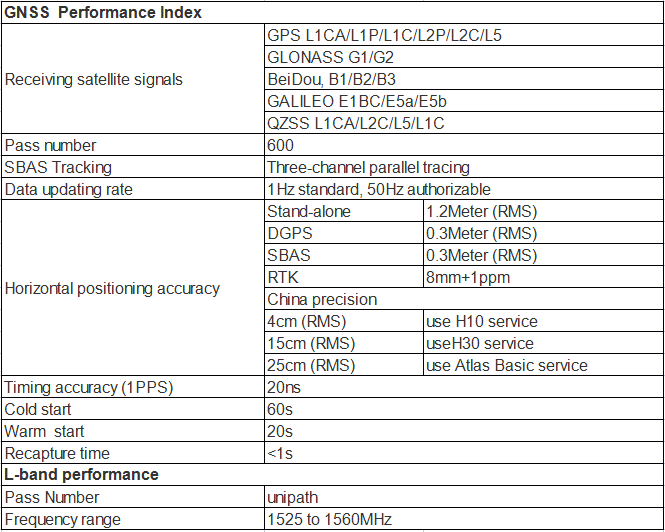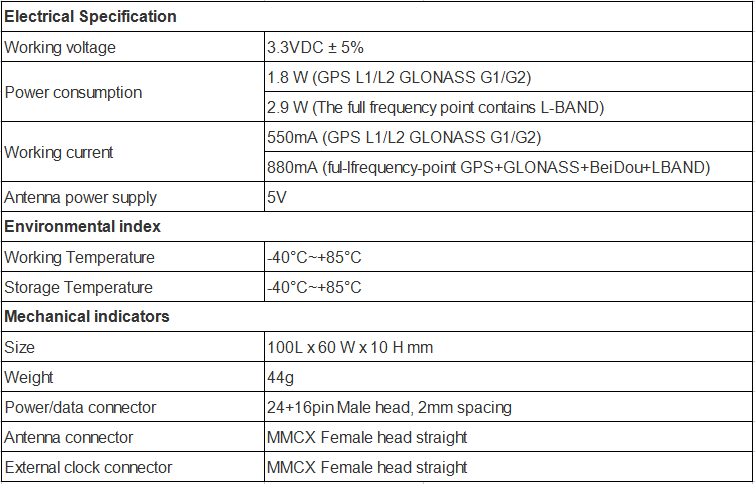 FAQ
1. What are the quotation methods?
If you have DHL or Fedex account, we can quote EXW price, otherwise CIF or FOB price.
2. Are there any discounts?
After we submit the sample price, if more quantity is needed, we will quote the bulk price.
3.How long will it take to deliver the goods after placing the order?
For sensors, parts and modules: in stock-one week; no stock-2-4 weeks; For systems, generally, 8-12 weeks.
4.How to deal with the quality problems?
After confirming that the product has quality problems, we will replace it for you free of charge in the shortest possible time.
If interested in Beidou /GNSS Satellite Based Enhanced High Precision Positioning Board , pls contact us: info@ericcointernational.com